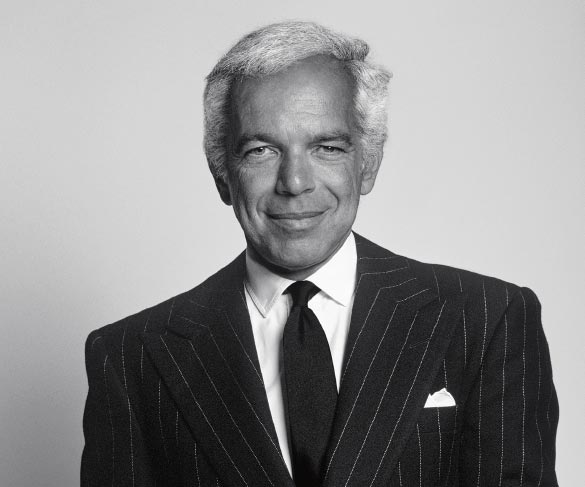 RALPH LAUREN
Executive Chairman and Chief Creative Officer, Ralph Lauren Corporation
For more than 50 years, Ralph Lauren has cultivated the iconography of America into a global lifestyle brand, and he is recognized as one of the world's most innovative design and business leaders. Taking inspiration from New England's rusticity, the West's natural beauty, and Hollywood's glamour, his collections for men and women, their children and homes embody an expression of timeless style recognized and celebrated around the world.
Lauren was born in 1939 in the Bronx, New York. He went to Baruch College, where he studied business, but he enlisted in the U.S. Army before graduating. After two years of service, Lauren noted the passion he was able to express through clothes. Designing men's ties out of a drawer in the Empire State Building, he relied on instinct; weaving his beliefs about life and style to capture the American dream using color, fabric, and design, and he's never looked back.
Among his many tributes are the Key to the City of New York from Mayor Michael Bloomberg for his outstanding civic contributions and the French Chevalier de la Legion d'Honneur in recognition of his contributions as a designer, business leader, and philanthropist. He was also awarded the James Smithson Bicentennial Medal, recognizing his lifetime contributions as a great American and his leadership role in the preservation of the Star-Spangled Banner. The Council of Fashion Designers of America (CFDA) has awarded Lauren many high honors, including Womenswear and Menswear Designer of the Year, Retailer of the Year, the prestigious Lifetime Achievement Award, Humanitarian Leadership Award, American Fashion Legend Award, and the first-ever CFDA Members Salute. Ralph Lauren was also presented with Women's Wear Daily's inaugural John B. Fairchild Honor and the British Fashion Award, recognizing his legendary and creative vision. Ralph Lauren is also the first American designer to have been awarded an Honorary Knight Commander of the Most Excellent Order of the British Empire (KBE).